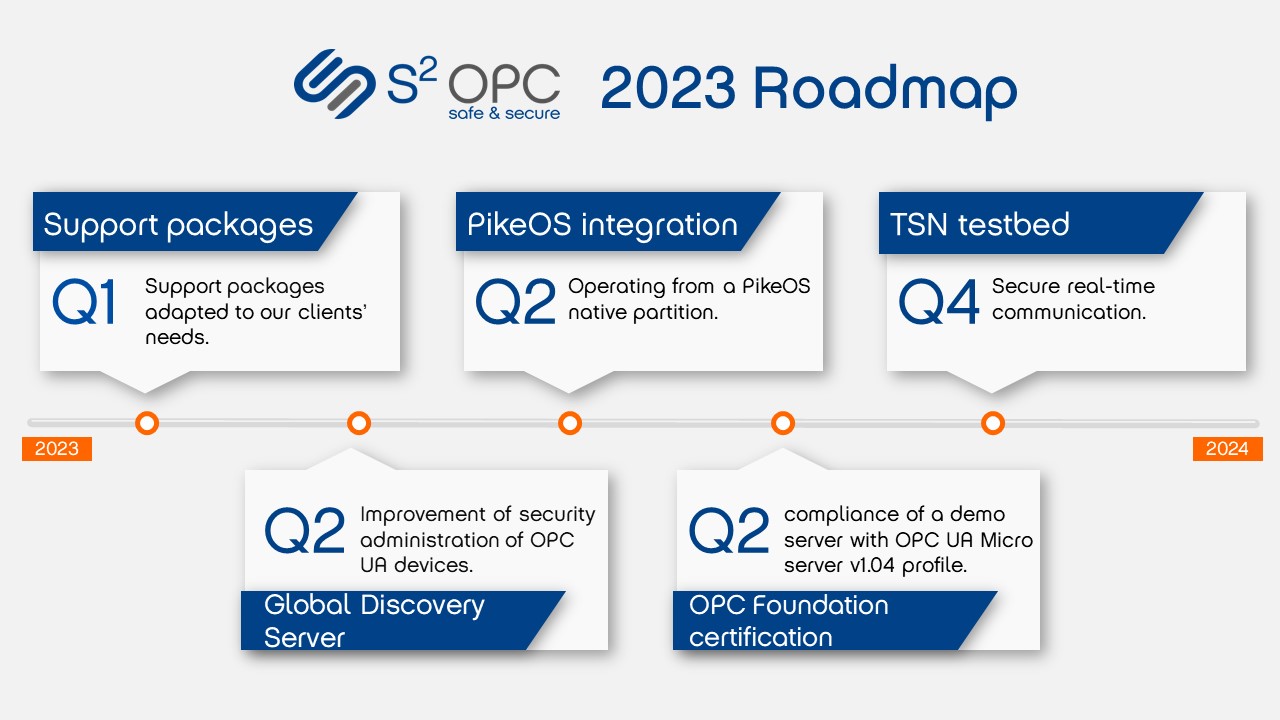 Features February 2023
Cybersecurity, connectivity, real-time capability, compliance and customer support excellence will feature prominently in this year's roadmap, as Systerel continues to add new capabilities to its open-source implementation of OPC UA: S2OPC. The CSPN evaluation is still in progress, and we hope for a favorable outcome in 2023.
Q1 2023
Support package: Systerel strives to deliver professional and proactive service to its clients by providing excellent customer support. To better address their specific needs, we will provide a variety of maintenance packages. Each pack includes a number of support tickets per year and via the Gitlab, more advanced packages include support via phone and onsite.
Q2 2023
Integration with PikeOS: S2OPC will be able to operate from a PikeOS native partition. This will enable the most critical applications to set up secure OPC UA communications. Systerel is a long-time partner of SYSGO, manufacturer of PikeOS: a real-time operating system based on a separation kernel, acting as a hypervisor and designed for the highest levels of Safety & Security.
Global Discovery Server: We are planning the release of a Global Discovery Server (GDS) to manage the renewal of OPC UA certificates. This will significantly improve ease of connectivity across devices and security. The GDS automates previously manual and complex processes for managing connectivity and certificates, thus saving a significant amount of time and money.
OPC Foundation certification renewal: S2OPC will renew its certificate of compliance with the OPC UA v1.04 standard from the OPC Foundation. The OPC Foundation Certification Program requires OPC-based products to pass an extensive level of testing to assure compliance, interoperability, robustness, usability and resource efficiency. S2OPC scope will also be extended, by moving from a Nano Profile to a more comprehensive Micro Profile.
Q4 2023
TSN (Time-Sensitive Networking): TSN is increasingly used to provide the OPC UA with a real-time functionality. The OPC UA TSN will provide secure real-time communication for all production data from various field equipment. S2OPC can be used to setup an OPC UA over TSN deterministic communication. The integration of an S2OPC based product on the IIC interoperability TSN testbed will take place in the latter part of the year.